Cashion Football playing Efficiently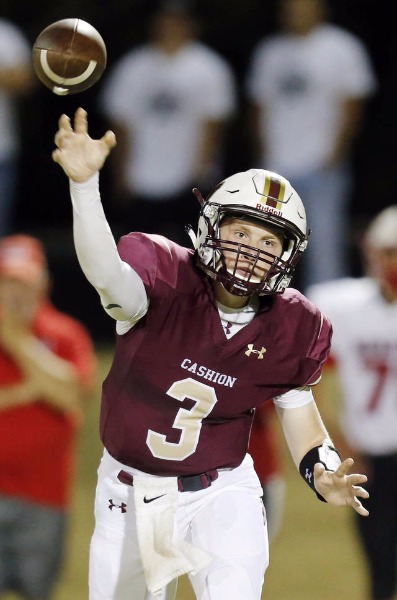 Newsok
Cashion quarterback throws seven TD passes
Cashion quarterback Griffin Lamb completed 10 passes in a win against Yale on Friday.
Seven of those were for touchdowns.
"I'd say he was pretty efficient," Cashion coach Lynn Shackelford said. "We knew we wanted to come out passing, but those numbers really jump off the page."
Cashion (6-2) dominated Yale 54-6, and it was the sophomore quarterback Lamb who led the way, throwing for 374 yards and the seven scores.
This is Lamb's first year at Cashion after transferring from Crossings Christian last year. Shackelford says Lamb has gotten better and better each week.
"It took him a little while to adjust because it would take any kid some time to adjust," Shackelford said. "But he's just so much more comfortable now with his teammates, with the offense, with everything.
"I'm just really happy he's here."